Christmas Eve murder: Marc Lindsey jailed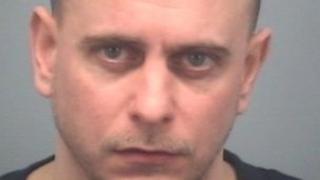 A man who fatally stabbed his wife's lover on Christmas Eve has been jailed for life.
Marc Lindsey stabbed Edward Vials, 47, in Hill Park Road in Gosport, Hampshire, after his wife Laura had confessed to an affair with Mr Vials.
Winchester Crown Court heard Lindsey, 35, admitted wielding a knife, but had claimed Mr Vials' death was an accident or self-defence.
The judge told him he would serve a minimum of 18 years for the murder.
During the five-day trial, Christmas Eve was described by prosecutor Robert Davies as "pretty grim" in both households when Mr Vials and Lindsey's wife Laura told their partners about the relationship.
Late on Christmas Eve, Laura Lindsey had sent Mr Vials a message with the warning "do not come here, have told Marc I love you" after she had informed her husband their marriage was over, the court heard.
Despite the message Mr Vials went to the house where Lindsey had armed himself with a kitchen knife.
'Arrest me'
In a call to police shortly after he arrived, the jury was told the two men could be heard struggling and Mr Vials was heard to cry out out "You've just stabbed me in the..." before his voice trailed off.
In a recording of a 999 call, Laura Lindsey was heard being given instructions by the operator as she tried to stem the flow of blood from a knife wound in Mr Vials' chest.
The court heard Marc Lindsey had joined in the attempts to give first aid before paramedics arrived at the scene.
When police arrived at the house, jurors were told Mr Lindsay said "it was me - I did it. Arrest me," and put his hands out in front of him to be handcuffed.
The judge, Mr Justice Burnett, explained that he could not be sure that Lindsey intended to kill Mr Vials, but having determined to stab him in the moments after he arrived he did not care "whether he lived or died".
Sentencing Lindsey, he said: "I am satisfied that you armed yourself with the steak knife which killed Eddie as he arrived and it was in your pocket before you got to the door.
"You were not visibly angry but you had been humiliated by Eddie. It was clear that your marriage was over."