Wight agrees Hampshire children's services takeover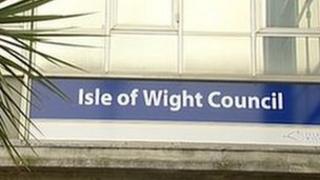 Isle of Wight Council has agreed a deal for Hampshire County Council to take over the running of its education and children's services.
The government directed the island authority to form the strategic partnership amid concerns over its child protection services and schools.
The deal, agreed at a cabinet meeting on Wednesday, means Hampshire will run the services for five years.
A report to the full council conceded its options were "extremely limited".
Hampshire councillors agreed to the partnership last week.
Under the agreement, Hampshire's director of children's services, John Coughlan, will take on the same role at Isle of Wight and existing staff will report directly to his management team.
Three-year review
The island will retain financial responsibility, setting the service budget, but it will be managed by Mr Coughlan.
The partnership will be reviewed by ministers after three years or could be ended early if evidence showed it was not working.
In November 2012 Ofsted found the island's children's social services to be "inadequate" in every area of inspection.
The Department for Education (DfE) also expressed concern the island had a disproportionate number of secondary schools requiring significant improvement or special measures and that absence rates were the worst in the country.
Ofsted inspectors returned to the island last week after their last report ranked four of the island's six secondary schools "inadequate" - the lowest grade.
Another was ranked as "requiring improvement", while the sixth was rated "good".
A new Isle of Wight Council administration was formed following last month's election by a group of 20 independent councillors, inheriting a previously Conservative-led council.