Portsmouth-based HMS Victory preservation awarded £5m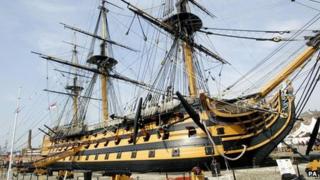 The government is to invest a further £5m towards the preservation of Lord Nelson's flagship HMS Victory in Portsmouth.
Culture Secretary Maria Miller made the announcement at Portsmouth's Historic Dockyard.
It comes on top of £25m donated by the government last year, along with £25m from Sir Donald Gosling's foundation.
The latest funding comes as part of the government's Catalyst Endowment initiative.
Basingstoke MP Mrs Miller said the news was "a fantastic result for HMS Victory".
The Department for Culture, Media and Sport (DCMS) said the money would be used to help secure the long term future of HMS Victory, the Royal Navy's oldest commissioned warship.
The HMS Victory Preservation Trust charity was set up last year by the National Museum of the Royal Navy, which became the vessel's new custodian when it was handed over by the Ministry of Defence (MoD).
The Catalyst Endowment programme is a joint initiative between the DCMS, Arts Council England and the Heritage Lottery Fund.
It is estimated at least £50m needs to be spent on HMS Victory over the next 15 years.
The 250-year-old vessel, which launched in 1765, is celebrated for being Lord Nelson's flagship in the Battle of Trafalgar in 1805.