Bramshott church bells silenced by bell-ringers' strike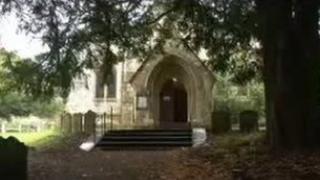 A group of bell ringers are refusing to ring their church bells in objection to Sunday services being started earlier.
Bells are pealed from 30 minutes before the service and the bell ringers from St Mary's in Bramshott, Hampshire, say the 08:45 start will disturb villagers.
The vicar is attempting to resolve the dispute which began earlier this month. Bells had been rung in the church every Sunday since 1784.
Sunday service was brought forward from 11:15 to 09:15 to attract families.
Boris Karloff
The Reverend Valentine Inglis-Jones said: "We're in discussions, we're hoping we can resolve it for the sake of our own people and the community.
"I do think that God quite often calls people together who might not necessarily get on particularly well.
"Conflict can quite often be the source of a deepening relationship."
The current bells were given to the church by the widow of Boris Karloff, the actor best known for playing Frankenstein's monster.
He lived in the village until his death in 1969, aged 81.
The church's bell ringing captain, Toby Arkless was unavailable for comment.