HMS Iron Duke leaves Portsmouth on return to service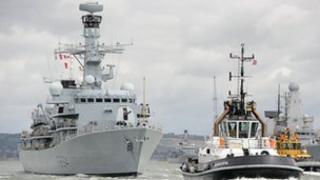 A Royal Navy frigate has returned to active service following a 16-month upgrade.
HMS Iron Duke left Portsmouth earlier to begin an intensive few months of sea trials.
The Type 23 frigate is now fitted with a 3D radar called Artisan which experts claim is five times better than the version it has replaced.
Artisan is to be fitted to all of the Navy's Type 23 frigates and two future aircraft carriers in a £100m upgrade.
The radar can spot an item as small as a cricket or tennis ball travelling at three times the speed of sound more than 15 miles (25km) away.
Built out of the same lightweight carbon glass fibre materials found on Formula 1 racing cars, it weighs just 700kg and can track up to 800 targets simultaneously at distances up to 125 miles (200km) away.