Shearings coach driver suspended after 'mobile call at wheel'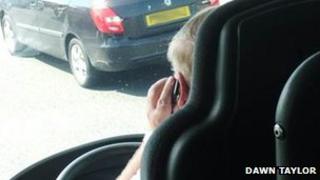 A coach company has suspended a driver who was photographed apparently using a mobile phone while driving.
Dawn Taylor from Gosport, Hampshire, was on a Shearings coach returning from Blackpool when she claims the driver made a six-minute call on the M6.
She said she was in "disbelief" as the bus travelled through heavy traffic, reaching speeds of about 40mph.
The company said the unnamed driver had been interviewed and it was reviewing its mobile phone procedures.
Hampshire Constabulary said it would assist Mrs Taylor in reporting the matter to officers in Lancashire.
Mrs Taylor, who had been to Blackpool at the end of May, said other passengers also expressed their shock as the driver made the call.
"You just don't expect to see a driver doing this in public," she said.
"It was unnerving - you hear of so many accidents. I was scared that next time we wouldn't be as fortunate."
A spokesperson for Wigan-based Shearings said it took driver training "extremely seriously " and a formal disciplinary process was ongoing.
He added it held regular driving training seminars and would be reiterating to drivers that use of handheld mobiles while driving is against the law.