Condition of Southampton cemeteries criticised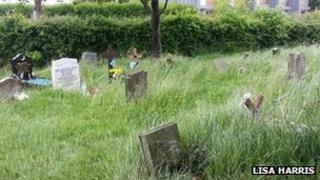 The condition of Southampton graveyards has been criticised by bereaved families, who claim the city council is neglecting cemeteries.
They say grass has been left uncut following council cutbacks and have launched an online campaign group.
Lisa Harris said she was "very upset" by the condition of South Stoneham cemetery when she visited the grave of her baby son who died in 1996.
The council apologised and blamed the weather for the grass growth.
Ms Harris set up the Clean up our Cemeteries Facebook group after she noticed the grass had hidden many headstones earlier this month.
She said had to cut the grass around her son's headstone herself with scissors.
"To see it looking like that is very distressing. It's like nobody cares. Its just disgraceful - they should be ashamed of themselves."
'Heart-breaking'
Cemetery superintendent at Hollybrook Cemetery Jim Emery, who worked and lived on site for 26 years, was made redundant by Southampton City Council last year.
His daughter Lisa Whitemore led a campaign to save his job.
She said: "It's heart-breaking. People are in uproar - this is exactly what my campaign last year was trying to prevent from happening."
The council issued a statement apologising for the grass being "unacceptably long" and blamed an "unpredictable weather dependent flush of growth."
The authority said a programme is in place to cut grass in the city's five cemeteries.
"Due to headstones and other memorials placed in and around the graves grass cutting is a time consuming largely manual task.
"Council staff work very hard to make the cemeteries peaceful, tranquil places to visit and valuable public open spaces at the heart of our communities," it said.