Jamie Dack murder: Hampshire Police made 'basic failings', IPCC says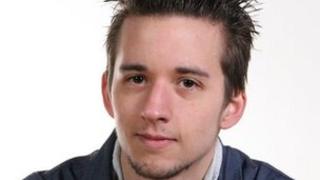 Officers handling the assault claim of a man who was later murdered made a "catalogue of basic failings", the police watchdog has found.
Four people were jailed for life on Wednesday for murdering 22-year-old Jamie Dack in Southampton. His charred remains were found in a bin.
Eight police officers have a misconduct case to answer, the Independent Police Complaints Commission said.
Hampshire Police said it acknowledged the findings and had taken action.
Ryan Woodmansey, 32, Andrew Dwyer-Skeats, 27, and Donna Chalk, 22, were told they would serve a minimum of 30, 32 and 25 years respectively by a judge at Winchester Crown Court.
'Individual failings'
A fourth defendant Lee Nicholls, 29, who admitted murder, was given a minimum sentence of 34 years.
The four locked Mr Dack in a flat at Bevois Mews and attacked him with a baseball bat, bottles and knives.
The gang forced him to hand over his bank Pin code, stole his laptop, and burnt his body in a bin.
They were arrested after Mr Dack's remains were discovered at Empress Road Industrial Estate on 8 April 2012.
The Independent Police Complaints Commission (IPCC) investigated how the force handled an allegation that Mr Dack had been assaulted in the weeks before his body was found.
The force's handling of reports from members of the public after he went missing were also scrutinised.
The IPCC concluded that two inspectors, four sergeants, two police constables and a member of police staff "had a case to answer following individual failings when dealing with either Jamie's assault or progressing information that he was a missing person".
IPCC Commissioner Mike Franklin said: "Our investigation identified a catalogue of basic failings by Hampshire Constabulary in their dealing with Jamie as a victim of crime and also when he was reported missing just two days before his body was discovered."
In response, Det Supt Colin Smith said the officers in question were being given "management advice".