Twyford Waterworks engine reconnected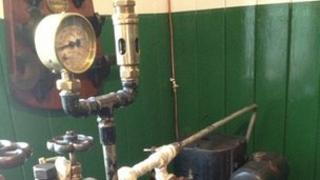 A restored engine has been reconnected at an Edwardian pumping station in Hampshire.
The 79-year-old Ruston engine was used to start the diesel water pumping engines at Twyford Waterworks.
Volunteer Geoff Bailey, said: "Mechanically the transfer house is now complete - this is a real achievement."
The work was carried out by the Twyford Waterworks Trust as part of a £820,000 Heritage Lottery Fund (HLF) award.
The waterworks which is still commercially pumping five million gallons of water a day is run by a team of 40 volunteers.
The site, near Winchester, was given the status of a Scheduled Ancient Monument in 1973.