David Guy murder accused 'dismembered friend's body'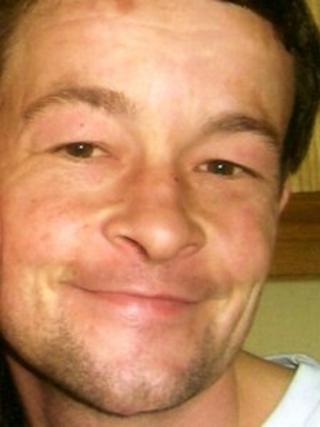 A man killed his friend, dismembered his body in a "painstaking, deliberate way" and used his bicycle to dispose of his limbs, a court has heard.
David Guy's torso, legs and pelvis were found in two places on the beach in Southsea, Hampshire, last year.
At Winchester Crown Court, David Hilder, 47, of Richmond Road, Southsea, denied murdering the 30-year-old.
Jurors were told the pair were friends who had known each other for many years.
Mr Guy had been living in a camper van on a business premises near to Mr Hilder's Southsea flat, the court was told.
The defendant, a collector and seller of scrap metal, is a "familiar figure" in Southsea who rides around on his "distinctive" bicycle with a box on the front, prosecutors said.
'Violent relationship'
The court heard younger Mr Guy was "polite and helpful" when sober but had a "significant drink problem".
Mr Hilder, also known as "Big Dave", would sometimes give Mr Guy, known as "Little Dave", food or let him bathe in his flat.
Nigel Lickley QC, prosecuting, told the court: "The precise relationship between the two men will never be known.
"One important aspect of the relationship was violence.
"David Hilder was on occasion violent towards David Guy... the old man punishing with violence the younger one, who remained somewhat dependent on him."
The prosecution told the court Mr Hilder killed Mr Guy, dismembered his body in a "painstaking and deliberate" way and then used his bicycle to transport the parts to other locations.
'Signs of mutilation'
Mr Lickley added: "It took time, it took clarity of thought, and it took planning."
Jurors were told the body "showed signs of mutilation".
Mr Guy's head, arms, some internal organs and genitalia were cut off and have never been found.
His torso was discovered by a group of students on Southsea beach, on 3 July last year.
It was wrapped in a pink curtain inside a black bin liner. Three days later, his lower body was discovered nearby.
The court was told that in the period before his death Mr Guy developed a new relationship which meant he spent time away.
Jurors also heard that Mr Hilder was concerned that Mr Guy was neglecting his cat.
Mr Lickley said: "It may well have been something minor that caused the argument that led to the killing of David Guy.
"A number of things may have been relevant; the cat, David Guy being absent because of his new relationship, money, David Guy being drunk and making a mess in the flat.
"Whatever it was it caused significant violence."
The trial continues.