Portsmouth World War II memorial boosted by donation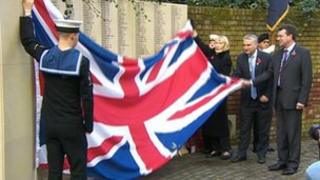 A memorial to Portsmouth residents who died during World War II is nearer completion following an anonymous donation.
The £9,000 donation will pay for another 300 names to be added to stone panels in Guildhall Square.
Black stone panels for the names were first unveiled in 2005.
Fundraising is continuing to raise £25,000 to complete the list of about 3,000 servicemen and women, as well as civilians, who died during the war.
A campaign for the memorial was started more than 20 years ago by Jean Louth, 79, whose father Harry Short died at Dunkirk.
The donation means that his name will be among the next to be added to the panels.
Mrs Louth said: "He died for his country, as did thousands of others who went off to war, and I just wanted him remembered in his home town,"
Council leader Gerald Vernon-Jackson said the donation was "another great step forward" for the project.
It is hoped the memorial will be completed in time for the 70th anniversary of D-Day in June next year.