Funeral for Arctic Star medal campaigner Eddie Grenfell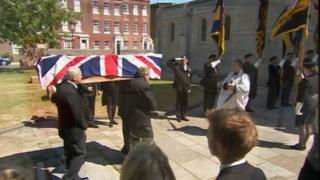 The funeral of the leading figure in the campaign to have the Arctic Star medal awarded has taken place.
Cdr Eddie Grenfell, from Portsmouth, served on four of the treacherous convoys, which supplied the USSR during World War II.
He died on 28 June aged 93, just over three months after he was presented with the medal.
He had lobbied for 16 years for the medal to be created and was the first veteran to receive the star.
His funeral was held at Portsmouth's Anglican Cathedral. The service was led by Canon Michael Tristram.
He described Cdr Grenfell as "a man with a big heart and a yearning for justice and humanity".
Cdr Grenfell's daughter Trudie Grenfell said: "He will be remembered with pride and honour and as a wonderful, wonderful father, grandfather and great-grandfather.
"He believed in something and wouldn't stop until he'd won."
After the decision was made last December to award the star, the government was urged to act quickly because of the advancing age and ill-health of Cdr Grenfell and other veterans.
Cdr Grenfell was only released from hospital three weeks before he was awarded the medal on 19 March.
He was given his own ceremony at the Mayor's Parlour in Portsmouth Guildhall as he was too ill to travel to the presentation with Prime Minister David Cameron at 10 Downing Street.
Speaking after the funeral, fellow Arctic Convoy veteran William Sheppard, 86, said: "If it hadn't been for him, we wouldn't have got [the Arctic Star]. He was so tenacious.
"He never gave up - you've got to be proud of a person like that."
Cdr Grenfell was born in Montrose, but left home at 16 when he joined the Royal Navy.