David Guy murder accused 'thought he killed someone'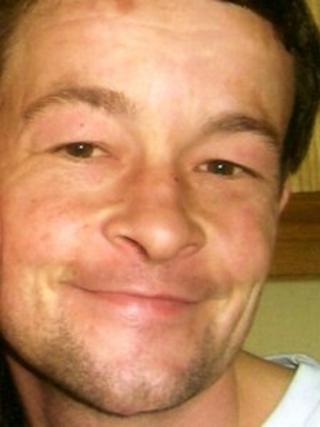 A man told a police call operator "I think I have killed someone" days after he allegedly murdered his friend, a court has heard.
David Hilder, 47, of Richmond Road, Southsea, is accused of killing 30-year-old David Guy between June 30 and July 3 in Portsmouth last year.
He denies murder.
Winchester Crown Court heard Mr Hilder travelled to Sussex after the alleged crime, arriving at Shoreham Police station on 5 July.
The station was closed so he used a police free-phone to call operators.
'Very confused'
The jury heard he told the operator his name and address and said: "I would like to speak to someone, I think I have done something serious... this morning I found a lot of empty Nurofen wrappers in my pocket."
When asked if he needed an ambulance he replied: "I need to speak to a copper first, I think I have killed someone."
The court heard PC Stephen Miles met Mr Hilder outside the station. PC Miles told the court he was "dirty and dishevelled" and seemed "very confused".
When he asked what had happened, Mr Hilder replied: "I do not know, I'm not sure what I have done."
Jurors heard Mr Hilder went willingly into the station for further questioning.
PC Miles told the court: "He said he was having flashbacks as if he had done something. I think he said words to the effect, 'If I have done what I think I've done then I'm going to kill myself.'
"I asked him what he thought he had done but he repeated, 'I don't know.'"
Flat search
PC Miles told the court Hilder was "very confused, rambling and not making much sense".
The court heard Mr Hilder was taken to hospital after saying he thought he'd taken an overdose.
Meanwhile Hampshire Constabulary checked his Portsmouth flat and found "nothing suspicious".
The court heard, when Mr Hilder was told this by Sussex Police he was "visibly relieved", and said: "It must have been all in my head then."
After medical checks, Mr Hilder was discharged and put on a train back to Portsmouth.
Jurors have previously been told the torso and the legs and pelvis of David Guy were found separately on Southsea beach in July last year. The rest of his body has not been recovered.
Mr Hilder lived in a flat near Mr Guy's campervan and the pair were friends.
Prosecutors claim Mr Hilder, a scrap metal dealer, murdered Mr Guy then dismembered his body and disposed of the parts using his distinctive bike with a box on the front.
The trial continues.