Fisherman rescued by Solent Coastguard after boat sinks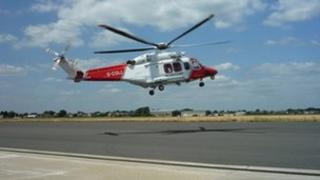 A fisherman has been rescued after his boat sank 10 miles (16km) south west of the Isle of Wight.
The man sent a mayday at 10:40 BST as his fishing vessel was becoming submerged.
He was swept in to the sea but set off a flare, and was winched on board the Solent Coastguard helicopter before being taken to St. Mary's Hospital.
A coastguard spokesman said: "You never know when these types of incidents will occur but it's not often."
The fisherman is believed to be in his 30s and his boat had been registered in Poole, Dorset.
The Needles Coastguard Rescue Team, the RNLI Yarmouth lifeboat and the coastguard search and rescue helicopter from Lee-on-Solent were all involved in the operation.
Alan Waters, duty watch manager, said: "This fisherman was wearing a lifejacket, which no doubt aided his survival.
"He also took distress flares and a handheld radio into the water with him which enabled rescue units to find him quickly."
The Marine Accident Investigation Branch is looking into the cause of the sinking.