Power station could be built in Portsmouth Naval Base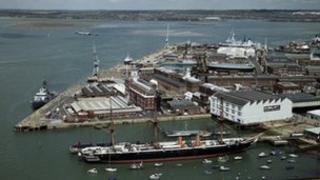 Plans for a power station in Portsmouth Naval Base are being discussed, according to the city council.
The new generator is needed to cope with larger aircraft carriers.
Portsmouth City Council leader Gerald Vernon-Jackson said without it Portsmouth would "go dark" when the new ships docked at the base.
HMS Queen Elizabeth and HMS Prince of Wales, the largest warships ever constructed for the Royal Navy will both be based at Portsmouth.
The first is due to be launched in 2016.
Extra power
Mr Vernon-Jackson said: "You can fit three Ark Royals on each of these new aircraft carriers.
"They need to have enough power in the dockyard - when ships turn up they just plug into the mains electricity - so we need to make sure there is extra power."
Surplus energy from the plant would be fed into the national grid.
Mr Vernon-Jackson said a partnership with Helius Energy, which is planning to build a biomass plant in Southampton, may be one option.
He said the council had been working with the navy on the plans for over a year.
"It may not be a biomass it may be a gas one or a coal one," he said.
"We suggested that Helius talk to the navy, there may be other people they're talking to as well."
A Royal Navy spokesperson said: "MOD is working with Portsmouth City Council to scope the full range of options for meeting our future power requirements.
"No decisions have yet been taken."