Three snow leopard cubs revealed at Marwell Zoo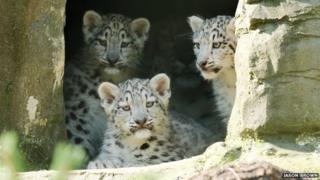 Three rare snow leopard cubs born at a Hampshire zoo have taken their first steps outside their den as they went on show to the public earlier.
They were born at Marwell Zoo, near Winchester, 12 weeks ago.
Having had their vaccinations, the female and two male cubs have now been allowed to venture outside for the first time.
The snow leopard is an endangered species with possibly as few as 4,000 animals remaining in the world.
The cubs parents, Irina and Indeever, arrived at the park in 2010 as part of the European endangered species breeding programme (EEP).
Keepers have named the female cub Animesh, which means "bright" and "to stare open eyed" in Nepalese, because she opened her eyes particularly early.
Hunted for medicines
One of the male cubs was named Ariun, meaning "pure" in Mongolian, and the keepers are asking the public to help them name the second male cub.
Marc Fox, team leader of carnivores, said they had "already developed their own personalities".
"It will be interesting to see if they come out of their shell more now they have a larger space," he added.
"To have three cubs is really rare as leopard cats would normally only have one or maybe two cubs.
"This is Irina's second litter and she is an excellent mum.
"We are really looking forward to watching these cubs explore their new home - it's great fun watching them play together."
Heidi Mitchell, conservation biologist at the park, said: "Snow leopards, like all big cat species, are threatened in the wild.
"This means that maintaining a healthy captive population of snow leopards is of vital importance to the global conservation strategy for the species."
Estimates by the World Wildlife Fund (WWF), the Snow Leopard Conservancy and the Snow Leopard Trust have put the number of animal left on the planet at between 4,000 and 7,000.
They are hunted for their fur and bones, which are used in traditional far east medicines.
Snow leopards live at high altitudes in steep terrain, broken by cliffs, rocky outcrops and ravines, usually above 3,000m (9,800ft) in central Asia and the Himalayas.
But the animals are gradually being pushed out of their natural habitat due to destruction, livestock grazing, their prey being hunted by humans and other conflicts with people.
Some also fall victims to landmines in northern Afghanistan.