Southampton family treated after small chemical explosion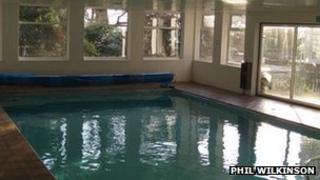 A family have been treated for gas inhalation following a small chemical explosion in the swimming pool plant room at their Southampton home.
Homeowner Phil Wilkinson said he had been preparing chemicals when the release happened on Thursday evening.
Firefighters were called and used breathing apparatus to enter the room at the property on Chine Avenue.
Mr Wilkinson, his wife and nine-year old son were taken to hospital as a precaution but were not seriously hurt.
He blamed a "small burst in the chlorinator" for the problem which led to a "pungent smell" around the street.
Fire crews used dry earth to soak up the spilled chemical and ventilated the room.
The eight by five metre (26ft by 16ft) pool is due to be used for lessons by a local swimming school which Mr Wilkinson said will go ahead as planned.