Tigers in freedom of Winchester city parade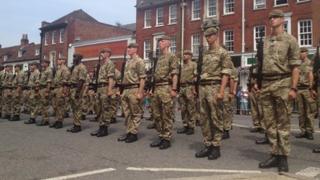 Soldiers from the Princess of Wales's Royal Regiment have marched through Winchester.
The regiment, known as the Tigers, exercised its freedom of the city, allowing it to march "bayonets fixed, drums beating and colours flying".
About 160 soldiers paraded from Peninsula Barracks to the Broadway.
Commanding Officer Lt Col Ollie Stokes said Winchester residents had "supported us brilliantly".
The event was the last of seven parades across the south east of England to welcome the troops from the regiment.
The soldiers were accompanied by the Band of the Corps of Royal Engineers.
After a presentation, the parade marched around the King Alfred statue and back along the lower High Street before a reception at the Guildhall.
Veteran Phil George, who saw action with the Tigers in Malaya in the 1950s, said it was important show the troops "had the public behind them".
"I'm here to support the young people carrying on the traditions of the British Army - they are still the finest," he said.
Members of two battalions of the regiment are currently serving in Afghanistan.
The regiment recruits its soldiers and many of its officers from Kent, Sussex, Surrey, London, and Hampshire.
It is also the only infantry regiment that recruits from the Channel Islands.