Woodmancott wind farm plan protestors leaflet homes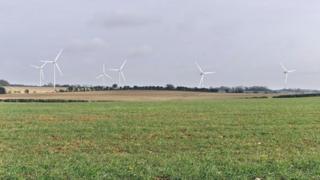 People against a Hampshire wind farm proposal have leafleted 15,000 homes in the area asking residents to object to the plans.
Firm TCI Renewables applied to put six 130m (426ft) turbines at Woodmancott, between Basingstoke and Winchester.
TCI said the turbines could power 8,000 homes and that the "vast majority" of wind farms were in rural locations.
Campaign Jonathan Moseley said the turbines would "scar the countryside" and set a "dangerous precedent".
'Landscape effect inevitable'
He said if the plan was approved by Basingstoke and Deane Borough Council, it would be the first time wind farms would be built on downland - a term to describe the chalk countryside in southern England.
The TCI application comes after a recent application by another energy firm, EDF, for 14 turbines at nearby Bullington Cross.
Mr Moseley, who is part of the Save Our Scenic (SOS) Hampshire Downs campaign, said all the proposed turbines would be a third taller than Big Ben, and that he did not think Hampshire was "windswept" enough to justify having wind farms.
TCI said the wind farm would have a total capacity of between 12MW and 18MW, enough to power 12% of households in Basingstoke and Deane borough.
Its planning application stated the effects on rural landscapes were "inevitable" as the government strived to meet its 15% renewable energy target by 2020.
It also said the effect on "landscape character" needed to be balanced against "the acknowledged and significant benefits" of generating renewable energy.
Campaigners leafleted 15,000 homes within a 10-mile radius of the proposed wind farm site.
The public consultation deadline is 14 August.