A303 lorry crash leaves three horses dead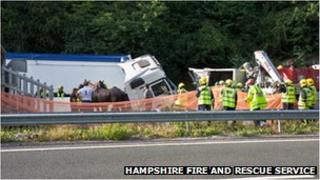 Three horses have died after the trailer they were travelling in was involved in a collision with a lorry.
The trailer, carrying 10 horses, overturned on the eastbound carriageway of the A303 near Thruxton just before 16:00 BST on Tuesday.
Fire crews cut away the back door of the vehicle to allow three animal rescue specialists and vets to sedate the horses before freeing them.
One horse was killed in the crash. A further two had to be put down.
Animal rescue specialist Jim Green said: "This was one of the most difficult and challenging animal rescues we have been called to."
The two men driving the vehicles were not seriously injured.
The road was closed overnight but has since reopened.
Anyone who saw the crash is being urged to contact Hampshire police.