Isle of Wight head teachers 'lost confidence' in council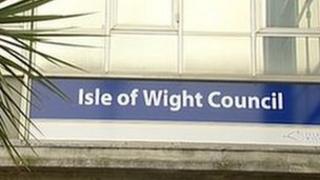 Head teachers on the Isle of Wight "lost confidence" in the council, an Ofsted schools report has found.
A special inspection was carried out in June after concerns were raised about education standards on the island.
In the latest report, Ofsted branded the Isle of Wight Council's arrangements for supporting school improvements as "ineffective".
The council said it was developing an action plan for improvement with the help of Hampshire County Council.
The report said the local authority's current administration had been left with "considerable and significant challenges" but the council neither knew the schools well or intervened early enough.
'Good quality education'
It said a lack of co-ordinated strategy for improvement meant "many head teachers, particularly in the secondary phase, have lost confidence in the local authority's capacity to support and challenge".
It added: "Too many children and young people on the Isle of Wight still lack access to a good quality education."
Last month it was announced that Hampshire County Council would take over the running of the Isle of Wight's children's services for five years, following a direction by the government.
Ofsted ranked the island's child protection services "inadequate" in November.
Inspectors returned to the island for the special inspection in June after their last report ranked four of the island's six secondary schools "inadequate" - the lowest grade. Another was ranked as "requiring improvement", while the sixth was rated "good".
'Road to recovery'
Children's services councillor Richard Priest said: "With a new administration and the expertise of Hampshire County Council, I am confident that we are now in a strong position to turn things around and drive up educational standards on the island."
Conservative councillor Chris Whitehouse said: "Ofsted's findings are a cause for grave concern but do not come as a surprise.
"I welcome the steps that Councillor Priest is taking to get on the road to recovery and to bring about significant improvements in all areas of educational performance as soon as possible."
Following May's elections, a new Isle of Wight Council administration was formed by a group of 20 independent councillors, who inherited a previously Conservative-led council.