Red squirrel sightings on Isle of Wight falling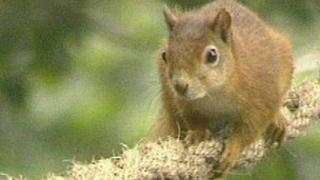 Numbers of red squirrels on the Isle of Wight have "dropped significantly", according to a conservationist.
Helen Butler, who was made a MBE in June for her work protecting the island's red squirrels, said sightings are at their lowest this century.
Woodlands at Bouldnor are among the habitats where no squirrels have been seen this year.
An increase in buzzards, last year's wet summer and infections caught from cat faeces are blamed for the decline.
Ms Butler set up the Wight Squirrel Project 20 years ago to record squirrel numbers after they fell following a hurricane which damaged forests on the island.
She said this year's low figures follow a decline in sightings in woodlands and gardens in recent years.
During winter and spring surveys at Borthwood, sightings fell from 17 to two squirrels.
"We know they are there, it's not critical yet, but the numbers really have dropped significantly. People are asking 'where have the squirrels gone?'," she said.
She said the squirrels were under pressure following the wet summer of 2012 which meant it was difficult for baby squirrels to survive.
In addition, they are being hunted by increasing numbers of buzzards and are catching toxoplasmosis from the faeces of domestic cats.
While native red squirrels on the mainland have all but died out, the population on the Isle of Wight has survived as the Solent has acted as barrier preventing grey squirrels coming into contact with them.