McDonald's apology to 'drive-thru' disabled woman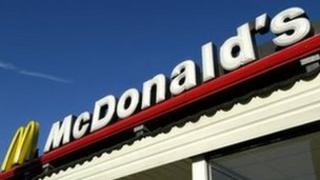 A disabled woman who was told she could not use her road-going mobility scooter at a McDonald's drive-thru has received an apology from the firm.
Kate Legg, 76, used the vehicle lane at the outlet in Bedhampton, Hampshire, to try and buy a milkshake.
Although the scooter is registered with DVLA, and permitted to travel on roads, staff said she could not use the lane owing to health and safety rules.
McDonald's said staff had been unable to tell the scooter was roadworthy.
Describing her conversation with the member of restaurant staff, Ms Legg, said: "I said to him that it was cobblers.
"It isn't health and safety at all - health and safety was put in place for the protection of people working in the mines and doing dangerous things at work, not to stop children playing conkers or old ladies from buying a milkshake at a drive-through.
"Health and safety is used for all sorts of stupid reasons and it does make me very cross."
'Safety priority'
A McDonald's spokeswoman said the company did not ban roadworthy mobility scooters from using the drive-through lanes but it did restrict ones not registered with DVLA for road use.
She said: "The health and safety of our customers and staff is our top priority and for this reason we are unable to serve pedestrians, bicycle riders and non- roadworthy mobility scooters through our drive-through lanes.
"We can however serve customers on roadworthy mobility scooters but unfortunately, in this instance, staff did not recognise that the scooter was roadworthy.
"We apologise for the inconvenience this has caused."