Stanbridge Earls School: Takeover plans scrapped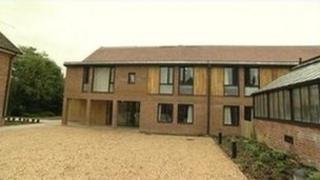 Plans to take over a Hampshire school, criticised for its handling of a pupil's rape claim, have been abandoned, it has been revealed.
Stanbridge Earls School, near Romsey, is to close on 1 December amid concerns about its finances and safeguarding.
A new school had been planned at the site - a sister establishment to More House School in Surrey.
Now the school, in Farnham, has said it will no longer be taking over because of falling pupil numbers.
More House head teacher Barry Huggett said: "We've reached a point where it could go no further.
"There's a limit to how much finance we can put into it.
"The number of children there is reducing and we are not able to give them what they need."
Schools watchdog Ofsted admitted failings in its inspections at Stanbridge Earls.
A tribunal in January raised "grave concerns" about safeguarding at the independent school.
Last year Ofsted said the school was "outstanding", but a review of the inspections has found they failed to get "underneath concerns".
The tribunal found the school, which caters for pupils aged 10 to 19 with special educational needs and charges up to £40,000 a year, had failed to protect the "vulnerable" pupil.
Her parents started legal action on discrimination grounds after she was excluded following her claim she had been raped twice by other students.
The tribunal heard the school believed she had consented and excluded her for breaking rules by having sex on school grounds.
Three Ofsted inspections since the tribunal's damning findings revealed serious concerns about safeguarding.
Hampshire Constabulary said it thoroughly investigated the rape allegation but the Crown Prosecution Service decided not to prosecute.
The force has since started a "comprehensive review" into its handling of the case and is investigating sexual abuse claims by another girl.