Exbury 'eggman' reveals his life on the water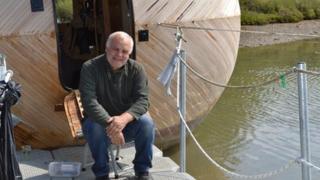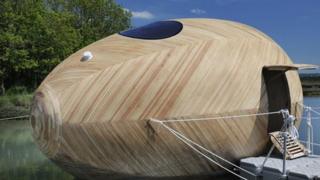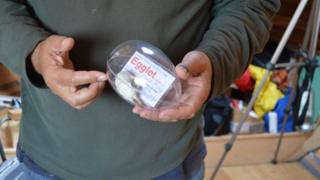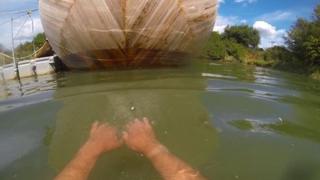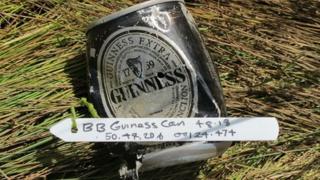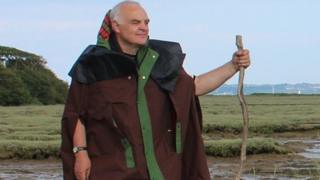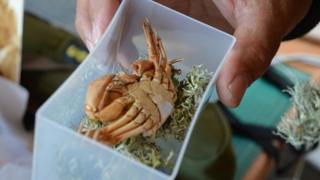 Mention the word egg and you might think of boiled, poached or sunny side up, but probably not a giant floating wooden one.
But nestled in a corner of the Beaulieu Estuary, a brown egg bobs on the water, which is both home and work to artist Stephen Turner.
His one-year mission is to "examine and reflect" upon the complicated relationship between man and the rest of the natural world in his self-sustaining work space.
Accessed across a thorny thicket from the de Rothschild's estate at Exbury, his egg contains a work area, small kitchen and cabin bed.
The bathroom is something of an understatement with a chemical toilet and "shower" - a garden pressure spray or outside hosepipe.
It is heated with a wood-burning stove, with electricity coming from portable solar panels.
Mr Turner said: "Most people I meet are just amazed and love it. I haven't had anyone say, I think you're an idiot, clear off."
Stephen Turner's £140,000 project has been funded by Arts Council England, The Paul Hamlyn Foundation and Hampshire County Council.
A further £100,000 in materials has been donated by local businesses.
He was inspired after being approached to take part in an art project by the Winchester-based Spud (Space Placemaking and Urban Design) organisation.
Mr Turner envisioned an egg in a "special landscape at a time of worldwide climate change that had a chance to be significant".
'Oak trousers'
With no fridge, food is dried or in tins with samphire and edible flowers gathered from the shore.
Bottles of ink made from oak trees, pens crafted from reeds, a snake's skin and bunches of water lavender surround his desk alongside a GPS device and a microscope.
Activity outside the egg is being followed 24 hours-a-day by two webcams.
Describing himself as "a custodian of nature" he is taking notes on marine ecology and making new art work, in, on and around the egg.
To curious kayakers and children taking part in school projects he is known simply as "the eggman".
Each day at low tide he sets off on a lengthy walk around his "parish" to watch the wildlife and gather material.
With 80% of the area around the egg being water, at high tide he swims and uses an underwater camera.
For Mr Turner, who has degrees in art and studied the history and philosophy of science, it is about "making a piece of art about our connection to nature on different levels".
He added: "I draw upon my interests in natural history, geology and geography as well as archaeology and human history.
"I treasure the idea of curiosity and I tend to look across the boundary between science and art sometimes."
Squirrel skull
He has used a waterproof pen to tag human items with a date and geo-location to record their movements.
Students at Solent University have made him a bespoke wardrobe of T-shirts, shorts, a snood, jeans and a cape which has a waterproof pocket made from a wetsuit and a collar made from an umbrella.
He added: "Some of the clothing is un-dyed so I plan to make some oak patterned trousers using the dye I make."
Mr Turner plans to release a dozen clear plastic Exbury "egglets" each month for people to find along the coast.
"I will swim each egg out along the estuary and send them off on the outgoing tide. They might get 200 yards or they might get to Denmark."
Each one will have a different message about the egg project, a card detailing the contents, and a map reference.
One contains a grey squirrel skull, another a whelk egg case and a shell.
He also plans to make salt, sloe gin and an abstract picture using a gauze on the riverbed.
Keith Chapman, Hampshire County Council's executive member for culture and recreation, described the project as "engaging and strengthening communities, as well as promoting sustainability".
At the end of the year, the egg will become a touring art exhibit, but Mr Turner described the art side as "incidental".
He added: "I want to be aware of nature and share that awareness. I don't want to make art about nature I want to let nature make the art."