Hampshire Police apology over stolen caravan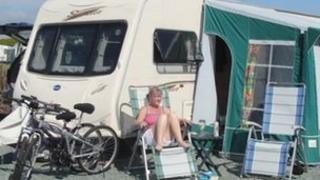 A couple have received an apology from police after they were told their stolen caravan could not be seized - as another family was living in it.
The uninsured caravan, worth about £30,000, was found in September on a travellers' site in Hook, Hampshire.
Kath McClelland and partner Mick Curry, who live near Farnham, Surrey, were told officers had no powers to seize it and that it was a civil matter.
The Hampshire force has apologised for its handling of the episode.
The force said it still stood by its decision not to take the caravan which it made after seeking legal advice.
'Man in a pub'
But the case has been reopened and a spokeswoman said officers were now searching for the vehicle which has gone missing.
She said police were confident they could seize it this time around but struggled to explain what had changed as the case was "very complex".
When police found the caravan last September a 22-year-old man was arrested but later released without charge after he produced evidence he had bought it in good faith from a man in a pub.
Officers sought legal advice and sent the couple a letter explaining they could not seize it for a number of reasons, including a consideration that children were living in it.
Mrs McClelland, who admitted she had to take some responsibility for not insuring the vehicle, said she was happy police had done all they could after a meeting with officers.
She has declined to comment any further on the matter.
A police spokeswoman said the force was sorry for the distress caused and the way it had kept the couple informed of developments.
She added: "We have met with Mr Curry and Mrs McClelland and discussed with them in detail the complexities of the police powers and legal position in relation to this case.
"We are aware of the public's concern but this was a unique set of circumstances and we remain committed to protecting our communities.
"A key part of [the] inquiry is to locate the caravan and return it to its legal owners."