Portsmouth Royal Mail centre posts 'at risk'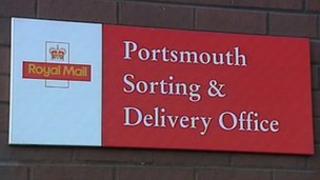 Up to 380 posts at Royal Mail's Portsmouth sorting office could be at risk as the firm considers moving mail processing to Southampton.
Mail will no longer be sorted at the city's Slindon Street centre from summer 2015 if the proposal goes ahead.
Royal Mail said the plan is part of an ongoing review of its UK mail centres due to a decline in mail and a "huge growth" in electronic communications.
The Communication Workers Union (CWU) has criticised the move.
Royal Mail said it is "too early to say" what the impact on staff at the Portsmouth centre will be.
The firm hopes to make the changes without making any compulsory redundancies.
However it has not revealed whether any staff affected would be able to transfer to Southampton if the move goes ahead.
Ruth Harris, CWU branch secretary, said: "We are very concerned not only for the effects on members, but it appears to be, in our view, a cost-cutting exercise with the potential deterioration of the service, and we believe it forms part of Royal Mail and the government's plan to privatise the industry."
She added: "[Workers'] day to day lives are totally in turmoil at the moment.
"It's mass disruption in very worrying economic times as well."
The Portsmouth delivery office, also based at Slindon Street, will not be affected under the plans.
Royal Mail has said the proposal follows nine months of consultation with staff and unions.
If plans are approved the transfer of mail processing services would start in autumn next year.
Scott Torrington, Royal Mail's programme manager, said: "We understand that any change to our mail centre processing operations in Portsmouth will, unfortunately, impact on some colleagues.
"Our agreements with the CWU set out an agreed approach to managing these changes and we will be working very closely with CWU and Unite CMA (Communication and Managers' Association) to support our people during what will, inevitably, be a period of uncertainty."