Isle of Wight asphalt plant plan 'not needed'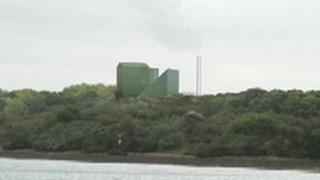 A company tasked with maintaining the Isle of Wight's roads said it would no longer need to build an asphalt plant on the banks of the River Medina.
Residents had opposed Eurovia's plans for the £2.3m plant at Medina Wharf on the west side of the river at Cowes.
The company said it would not need the facility after forming a partnership that would involve upgrading Blackwater Quarry at St George's Down.
Island MP Andrew Turner said it was a "victory for ordinary people".
Last year, Eurovia Roadstone was awarded a 25-year Public Finance Initiative (PFI) contract to maintain the island's roads.
'Ill-conceived idea'
The company said it had formed a joint venture with Blackwater Quarry owner Aggregate Industries, which trades on the Isle of Wight as Bardon Vectis.
It said the joint venture company would trade as Wight Building Materials Limited, supplying asphalt, concrete, pre-cast and aggregate materials, if an upgrade of the plant at Blackwater was approved.
Mr Turner said: "This is a victory for ordinary people standing up for what is right and I am delighted that common sense has finally prevailed, as building an asphalt plant at this ecologically sensitive location so close to many homes was always an ill-conceived idea."
Isle of Wight Council leader Ian Stephens said: "We would like to thank Eurovia and Aggregate Industries for working together to reach this important agreement which we believe is the right decision for the island and one that will be welcomed by residents."
Philippe Frenay of Aggregate Industries said: "Through Bardon Vectis, Aggregate Industries has been working on the Isle of Wight for 30 years and our staff on the island are pleased to have the opportunity to be part of this upgrade and improve the roads across the Isle of Wight."