Basingstoke armed robbery: CCTV released by police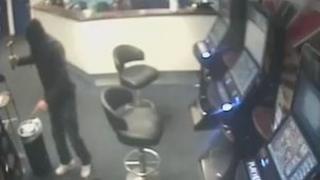 A CCTV image of an armed robber who threatened staff with a hammer during a raid at a Hampshire betting shop has been released by detectives.
The man entered Coral bookmakers in Winchester Street, Basingstoke, near the Camrose football ground shortly before 21:00 BST on 31 July.
He threatened staff and fled with cash. No-one was hurt.
Staff who were working at the time have now spoken of their ordeal in a bid to encourage witnesses to come forward.
'Very scared'
The shop's deputy manager, who does not want to be named, said: "He shouted to us to get down and we dropped to the ground and then he demanded we give him money.
"I was physically shaking and was very scared about what he might do if he didn't get the money."
She added: "This incident has made me quite nervous and I don't think the reality of it has hit me yet."
A customer service assistant threatened by the robber said: "I was really scared when he threatened us and was holding the hammer, I remember being scared for myself, my colleague, who is also my friend, and for the customer in the shop. I just kept thinking about my children."
She added: "I did feel a bit sorry for him that he had to resort to that to get money, but you can't get away with it. That has had a terrible effect on my life."
Det Con Rod Kenny from Hampshire Constabulary is appealing for witnesses.