HMS Lancaster makes £100m cocaine haul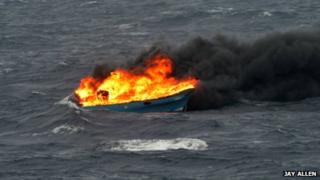 Royal Navy sailors have seized a stash of cocaine worth £100m after they boarded a speedboat near Puerto Rico.
Personnel on the Portsmouth-based HMS Lancaster intercepted smugglers during a Caribbean patrol targeting South America-to-UK traffickers.
Men onboard the 30ft (9.1m) speedboat threw drugs overboard which were later retrieved by divers. In all, 22 bales (680kg) of pure cocaine were seized.
Secretary of State for Defence Philip Hammond MP called it "extraordinary".
"[It] has been stopped from reaching the streets by the swift actions of the Royal Navy, working closely with the US Coastguard," he said.
"This is HMS Lancaster's second counter narcotics patrol in the Caribbean to tackle the drugs trade and the entire ship's company should be proud of this remarkable achievement.
"This is another example of the skills and capability that mean our Armed Forces are held in high regard by our partners around the world."
'Great feeling'
The speedboat, which was covered in tarpaulin, was initially spotted by US Customs and Border Agency aircraft.
The Royal Navy frigate launched its Lynx helicopter and high-speed pursuit boat to intercept the boat which had three suspected smugglers on board.
The men, along with drug haul, were handed over to the Coast Guard Cutter Sapelo, and then to authorities in Puerto Rico.
The empty boat was then sunk by HMS Lancaster's guns to "prevent its use in future smuggling operations".
HMS Lancaster's commanding officer, Cdr Steve Moorhouse, called it a "great result".
Able Seaman James Duffy, coxswain of the sea boat, said: "We have all trained really hard to get where we are and have a fantastic relationship with the US coast guard guys.
"It is an amazing feeling to get such a great bust and stop millions of pounds worth of cocaine hitting the streets."
The frigate is on patrol with the US Coast Guard Law Enforcement Detachment as part of a multi-national effort to combat drug smuggling.
It will continue its involvement with the initiative until the end of the year.