Hampshire PCSO Lee Wright to stand trial for shoplifting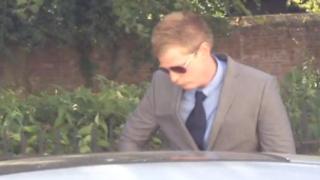 A Police Community Support Officer (PCSO) is to stand trial accused of shoplifting in Portsmouth.
Lee Wright, 24, has denied two counts of theft from Game and Sports Direct in Commercial Road on 3 August.
The 24-year-old, of St Marks Road, in Portsmouth, has been suspended by Hampshire police while legal and disciplinary proceedings take place.
He appeared at Southampton Magistrates' Court earlier and was released on bail to stand trial on 16 December.
The court heard Mr Wright had placed items worth more than £300 in a bag in Sports Direct.
He is also accused of stealing figurines worth about £75 from the Game store.
Mr Wright was part of a PCSO team which patrolled Portsmouth city centre.