Southampton rape witnesses sought with CCTV image appeal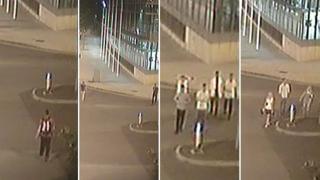 Detectives investigating a rape in Southampton have released CCTV images of potential "vital witnesses".
A 20-year-old woman was pulled into a bush on West Quay Road and raped by a man between 03:00 and 03:45 on Saturday.
The attack occurred near the De Vere Hotel after she spoke to a group of five men who approached her.
Det Insp Dave Nealon said those in the images "were all in the area around the time or shortly before the incident".
Hampshire Constabulary said they particularly wanted to speak with two men who stopped to help the victim - and a man who was seen cycling in the area.
The attacker is described as white, aged about 20 to 22, 5ft 5in (1.65m), of muscular build and with a brown trimmed beard.
His hair is short at the sides with longer hair combed over on top, known as a French crop.
He was wearing dark-blue skinny jeans and a T-shirt.