Sainsbury's recalled watercress came from UK farms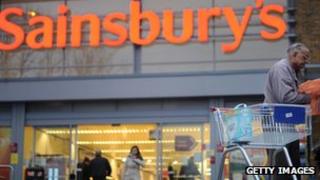 Bagged watercress withdrawn by Sainsbury's over an outbreak of E. coli was produced by a Hampshire company.
The Food Standards Agency (FSA) said 19 people had fallen ill and the store's watercress was one line of inquiry.
Vitacress, based near Andover, said it supplies all of Sainsbury's watercress and some 200,000 bags may be withdrawn.
Sainsbury's said the recall was precautionary and affected products could be returned to stores for a full refund.
"The FSA has made us aware that a small number of people have fallen ill with a bacterial infection, and that one of their lines of investigation is watercress bought at Sainsbury's since 1 August," a spokesman for the supermarket said.
"Although no traces of contamination have been found in our products we have as a precautionary measure withdrawn six lines of pre-packed salad containing watercress from the supplier concerned."
Vitacress marketing director Huw Griffiths confirmed it provided Sainsbury's with all of its bagged watercress and also supplied other companies in the UK.
He said the recalled bags all contained watercress grown in the UK in St Mary Bourne and Alresford in Hampshire, as well as Bere Regis in Dorset.
The company produces about two million bags a week.
Mr Griffiths said the firm was liaising with environmental health officers to take samples from the farms for further testing.
The FSA said only Sainsbury's products were being recalled and investigations into the outbreak of E.coli O157 were continuing.
E. coli is short for Escherichia coli. It is a type of bacteria present in the gut of humans and other animals.
The severity of the illness people can get varies considerably, but some types of E. coli lead to severe cramps and diarrhoea.