Anabelle Shepherd parents say 'hospital robbed them' of daughter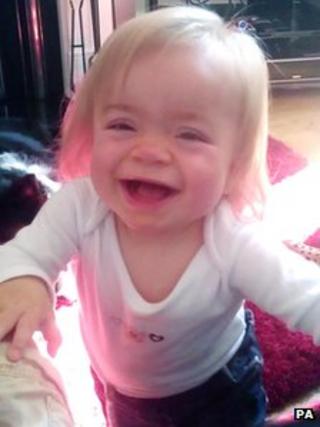 Parents of a toddler who died on Christmas Day from a serious infection say hospital staff "robbed them of their daughter", an inquest has heard.
Anabelle Shepherd had been cared for by staff at Portsmouth's Queen Alexandra Hospital (QAH) following a reaction to a bone marrow transplant.
She suffered from a rare genetic condition known as Hurler's Syndrome.
The QAH apologised for some of the care, adding procedures for dealing with similar patients have changed.
Having undergone a bone marrow transplant at Great Ormond Street Hospital (GOSH) last August to cure the rare condition, the 22-month-old from Portsmouth had shown signs of improvement.
But in the run-up to Christmas, Anabelle became lethargic and was taken to the QAH by her parents Leanne and Lee and admitted.
'Lack of care'
Her condition worsened and, after a seizure, she was moved to intensive care at Southampton General Hospital. Despite attempts to stabilise her, she died on Christmas Day.
Mr and Mrs Shepherd had been looking after Anabelle at home and were concerned about infection. She had been taking drugs to suppress her immune system after the transplant.
When she became ill, Mrs Shepherd was told by GOSH to take her to QAH.
In a statement, Mrs Shepherd said staff did not take blood and culture samples or monitor her loss of fluid when Anabelle was admitted and doctors said she had gastroenteritis.
She accused the hospital of a "lack of care and action" and said she and her husband were concerned about a lack of medical intervention and assessment as their daughter's condition worsened.
'More clarity'
Mr Shepherd told the hearing he felt "completely let down" by staff at QAH.
He said: "I felt I had to prompt the nursing staff to do what I considered to be basic care for a child in Anabelle's condition."
A post-mortem examination could not identify the infection that caused Anabelle's death and whether it was viral or bacterial.
Consultant paediatrician Simon Birch, who looked after Anabelle for some of her time at QAH, said in retrospect there had been a lack of communication with the parents when she was admitted.
But he said a lot was done to treat her even though she could have been seen more regularly.
"Although we are still not certain it would have altered the outcome, we fully acknowledge it would have given more clarity to Anabelle's care," he said.
The hospital admitted there was no protocol in place at the time for administering care for an immuno-suppressed child like Anabelle.
Dr Birch said staff recognised she was immuno-suppressed, otherwise he may not have seen her and she might well have been discharged as would have happened with a healthy child.
Blood and cultures are now taken and IV antibiotics administered on children in similar positions to Anabelle at QAH within one hour of admission with more frequent observations.
Southampton coroner Keith Wiseman adjourned the inquest, indicating he would give a narrative verdict at a later date.