Fareham solar farm plans approved by council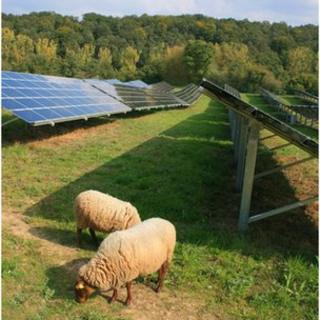 Plans to build a £20m solar farm on fields in Hampshire have been approved by councillors.
Vogt Solar Ltd wants to cover a 66-acre (27-hectare) site at Newlands Farm in Fareham with up to 90,000 solar panels.
The firm had originally applied for permission to build a site twice the size, but those plans were recommended for refusal and withdrawn.
The solar farm will be temporary and after 25 years the land will be returned to farmland.
While it is in use, the land can still be used as grazing for animals, such as sheep, the firm said.
The plans, which involve erecting ground based [solar] panels and a number of small buildings for equipment, were approved by councillors at a meeting on Tuesday.
Thirty-three objections against the plans and 16 letters of support were received, Fareham Borough Council said.
Hedgerows and wildflowers
Many of the complaints concerned loss of green space, damaged views and the impact on wildlife.
The firm said it also plans to make "enhancements to the landscape in order to lessen the visual impact", which will include planting native hedgerows and a mix of wildflowers on grassland areas.
Vogt Solar's original plans for 200,000 solar panels on 143 acres (58 hectares) of agricultural land were met by objections from Natural England.
It criticised the original plans, saying "insufficient information" had been submitted on the potential impact to wildlife.
Some councillors also expressed concern that the farm would be an eyesore and was too close to the HMS Daedalus airfield.
Council planners agreed and recommended the plan for refusal.
In February Vogt Solar Ltd withdrew it and in June, the company submitted a revised version.
Councillor Nick Walker, chairman of the planning committee, said: "Having considered and balanced all relevant planning issues, it is considered the proposal would provide a valuable contribution towards renewable energy."