Neglected horses rescued from Alton field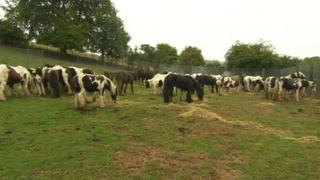 A herd of 45 neglected horses abandoned by their owners in a field in east Hampshire have been rescued.
The RSPCA said it had been monitoring the horses off New Odiham Road in Alton since they were reported to them in the beginning of the summer.
Officers have since unsuccessfully tried to trace the owners.
A veterinary assessment found the condition of the horses had now deteriorated to a level where they were at risk of starving to death.
The RSPCA, Hampshire County Council and horse charity Redwings worked together to remove the animals.
Starving and miserable
RSPCA chief inspector, John Harrod, said: "They have been escaping onto the road because they're hungry and police have been called on numerous occasions.
"We've monitored them since the summer - they've been getting progressively worse. So we're taking them into possession and are trying to trace the people responsible."
Nic de Brauwere, veterinarian and head of welfare at Redwings, said: "They are suffering because they've been starving. They are feeling miserable.
"They are so thin that they are actually not going to cope with the winter and are at risk of dying of disease or simple starvation."
Mr de Brauwere said those in the worst condition were being taken to a Redwings sanctuary for treatment while the rest were being looked after at a livery yard.
The RSCPA has appealed to the owners, or anyone else who knows who the horses belong to, to contact them.