Nurse cautioned for giving razor blade to Antelope House patient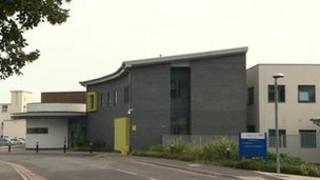 A mental health nurse has been cautioned for handing a patient a razor blade, which she then cut herself with.
Katherine Quinn was working at the Antelope House mental health unit in Southampton when it took place.
A Nursing and Midwifery Council (NMC) hearing in London found she was still fit to keep practicing but gave her a one-year caution order.
The panel heard that self-harm is used by some mental health trusts as a form of therapeutic intervention.
Ms Quinn admitted giving the razor blade to the patient in May 2011 and allowing her to self-harm with it.
She reported the incident at the end of her shift to the morning staff.
The woman, who can only be referred to as Patient A, had been diagnosed with borderline personality disorder and had a history of self-harming.
Ms Krystle Fonyonga, the case presenter instructed by the NMC regulatory legal team, said the nurse had "acted so as to place a patient at unwarranted risk of harm, bring the profession into disrepute, and breach a fundamental tenet of the profession".
'Severe distress'
A statement from the panel read: "You had clearly acted so as to put Patient A at unwarranted risk of harm.
"As a result of your action, Patient A harmed herself.
"There was little attempt by you to manage the aftermath appropriately. You did not check her wound or check whether harm had come to other patients."
But it concluded that Ms Quinn had taken on extra training and supervision since 2011, and that it was "highly unlikely" to happen again.
Ms Quinn's former employer, Southern Health NHS Foundation Trust, said: "We would never condone aiding somebody to self-harm and take incidents like this very seriously.
"As soon as we became aware of this incident, the member of staff was immediately suspended from any contact with patients while we conducted a full investigation, which resulted in their dismissal from our service."
But Marjorie Wallace, the CEO of mental health charity Sane, said there was a lack of "very strong guidelines" to deal with such cases.
She added: "It really is the patient that counts and somebody that is so disturbed… the only way forward is to release that pain.
"One person said to me 'I cut so that I breathe'. It's that critical to people, and if you suddenly stop, and you suddenly withdraw it, then you take away their way of coping with severe distress."