Eurasian Scops Owl takes refuge on HMS Illustrious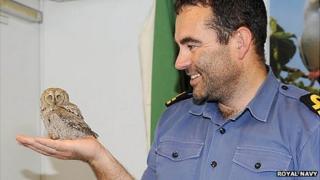 An owl which "ran out of steam" during its migration and "took refuge" on a Royal Navy warship has been returned to the wild.
Portsmouth-based aircraft carrier HMS Illustrious was patrolling off Yemen when the Eurasian scops owl was spotted cowering under a crane on deck.
Lt Chris Patrick, a member of the Royal Naval Bird Watching Society, spent several days nursing it back to health.
He said the "poor little thing must have seen the ship and took refuge".
'Waiting to die'
Lt Patrick, from Weymouth, said the owl had landed on the vessel while on a migration route south towards Sub-Saharan Africa.
He said it had "looked as though it was simply waiting to die".
Weather conditions meant the bird would not be able to make it to shore, so he took it to his cabin and fed it pieces of meat.
Within two days, it was trying to fly again and Lt Patrick, the ship's meteorologist, calculated the best location to release the bird when wind conditions were favourable.
Lt Patrick said it had looked "in good condition" when it was released near the coast of Oman and was "heading to shore with the prevailing winds".
"We all hope it made the journey safely," he said.