Isle of Wight Ecoisland self-sufficiency company in liquidation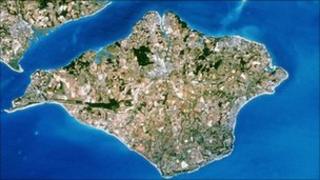 A company which had aimed to make the Isle of Wight self-sufficient in terms of energy by 2020 has gone into voluntary liquidation.
The Ecoisland Partnership Community Interest Company (CIC) had said power for the population of 142,500 could come from renewable energy.
A company statement blamed a lack of funding in the economic climate.
Companies such as Cable and Wireless, IBM and Toshiba had given their backing to the scheme.
In 2012 Ecoisland had presented 14 objectives at a launch event at the House of Commons outlining how it intended to achieve self-sufficiency and become a net exporter of energy.
It said power for the island, which draws 600GWh of electricity per year from the mainland, could generate power from a waste to energy plant, solar panels and tidal and geothermal power.
'No positive spin'
Plans also included a geothermal plant to tap into an underwater reservoir 1.8km (1.1 miles) beneath the island.
There was also an aspiration to cut landfill to zero and to stop waste being transported off the island.
A statement issued on behalf of company director David Green said: "There is no positive spin to put on this - the vision of the island as a sustainable region was clearly a valuable one but the necessary ongoing funding streams have not consolidated around the plan.
"The vision however is still a good one and the director hopes that the momentum that has been generated can still be maintained."
Ecoisland was a "community interest company", which means it can act like a limited company but its assets and profits must be used for the benefit of the island's 142,500 residents.