Plan to create Hampshire Community Bank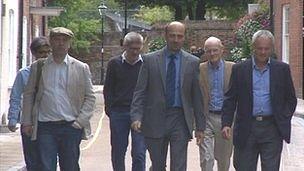 A group of finance experts is to set up a community bank in the hope of reinvigorating Hampshire's economy.
Working together as Local First, a community interest group, they intend to set up a locally-owned and run bank for the benefit of local people.
Eastleigh Borough Council has already said it would invest in the business, to be called Hampshire Community Bank.
Depending on the level of customer deposits, the bank hopes to lend at least £100m in its first year.
One of the Winchester-based team leading the project, banking expert Prof Richard Werner, said: "It's exactly what is missing in the UK banking landscape.
"The idea is, you gather deposits locally and you lend locally and I think people will like that.
"Banking is actually a highly profitable business and it is really a no-brainer for a local authority to invest in setting up a local bank."
The group intends to raise £7m and hopes the government will match it to create a total £14m.
Deposits up to £85,000 will be protected under the government protection scheme.
Prof Werner's banking vision is shared by Local First colleague Mike Battersby, who has 25 years corporate finance experience with Lloyds Banking Group and Royal Bank of Scotland.
He said a local bank would be more in touch with the customers it serves.
"I would have about 50 customers and I got to know those businesses really, really well," he said.
"They would phone me up and say, 'Look, I've got a bit of a problem this month, I need an extra £25,000 for a couple of weeks, would that be okay?'
"And I knew enough about what was going on in that business to say 'yes'."
In addition to its lending pledge, Local First says the bank will also be able to undercut high street rivals, offering better interest rates.
Mr Battersby added: "You will not be coming to work for our bank if you are expecting to walk away with a multimillion-pound bonus based on highly speculative leveraged lending which could go wrong."
Eastleigh borough councillor Keith House said the regulatory process meant the council would not be able to begin funding the bank for at least another year.
The bank itself must also undergo regulatory approval and Local First hopes it will be up and running in two years.
Related Internet Links
The BBC is not responsible for the content of external sites.