Ventnor Botanic Gardens gains national collection for puya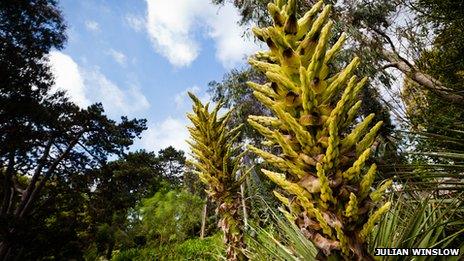 A public garden on the Isle of Wight has gained national recognition for its collection of an Andean plant, two years after it came close to closure.
Ventnor Botanic Garden was taken over by a community interest company in 2011 after the council ended its ownership as part of budget cuts.
Its 17 species of South American puya plants have now been designated as a National Plant Collection.
Garden curator Chris Kidd said he welcomed the recognition.
The puya were first grown at Ventnor in 1996 and are almost unique in the UK in being grown outdoors.
"There is a remarkable microclimate in this part of the island with few frosts and very free draining soil. A lot of time and effort has gone into the conservation work," said Mr Kidd.
Being awarded National Plant Collection status by the charity Plant Heritage is recognition that it has a comprehensive and healthy collection of a particular genus or plant type.
The name puya comes from the Mapuche Indian word meaning point. The plant has bright greeny-yellow flowers on tall spikes above the razor-sharp spines which it uses to snare and entrap animals which slowly starve to death.
They then decay at the base of the plant, acting as a fertiliser.
Mr Kidd described the spines as "savage and vicious" and said gardeners had to wear extra gauntlet protection to avoid being "cut to pieces" when working on the plants.
Ventnor Botanic Gardens, founded in 1970, is home to rare and tropical plants, many of which are grown outdoors.
Related Internet Links
The BBC is not responsible for the content of external sites.