Winchester wrong-way 10m cycle lane 'useless'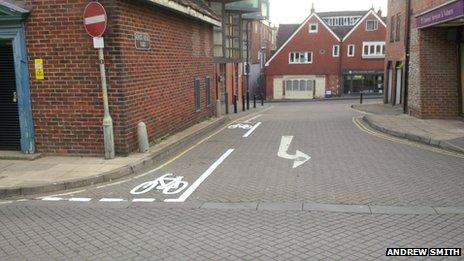 Cyclists say they have been left confused over a "useless" new 10m-long cycle lane which tells them to go the wrong way down a one-way street.
The markings, in King's Head Yard in Winchester, were painted by the city council on Wednesday.
Christopher Peck from cycling charity CTC said it was a contraflow lane to "open up a maze of pedestrianised and one-way streets".
But cyclist Andrew Smith called it "bizarre and pointless".
The new road markings show cyclists are permitted to enter the one-way street from the opposite direction.
An "except cyclists" sign has since been added below the no-entry sign for clarity, the council said.
Sue Cole, Winchester CTC campaigner, said: "This is the first contraflow cycle lane in Winchester without infrastructure separating it from the carriageway.
"Because of the Saxon street pattern in Winchester, there is not space on most of these one-way streets to provide a dedicated contraflow cycle lane."
Mr Smith said: "It just seems a complete and utter useless piece of white line painting.
"I wholeheartedly support the council's efforts to improve cycling safety in Winchester... but this just seems like bureaucratic nonsense - probably quota filling for cycle paths in the city centre."
The city council has set up the Winchester District Cycling Strategy to "ensure cyclists can use a direct, attractive and safe network of roads".
It is paid for by the local sustainable transport fund, which came from the Department for Transport after a successful bid of £4.1m by Hampshire County Council.
Contraflow lanes have previously been introduced in London and Brighton.
Related Internet Links
The BBC is not responsible for the content of external sites.