'Your dinner's in the bin' say Hampshire freegan friends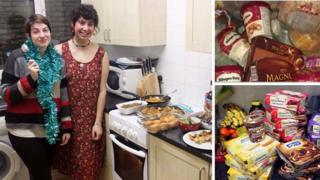 From unused Christmas cards, decorations and wrapping paper to cat litter, beer, and litres of melting ice-cream, art students Libby Russell and Luiza Hamidi have found all sorts of items in the bins of their local markets and shops.
The pair are celebrating a year of living as "freegans" - eating mainly food they have found in bins.
They go "binning" four times a week, using a torch to search bins outside food markets and charity shops.
Libby, who says she is against consumerism, also decorates her home with lamps and ornaments found in bins or on the website Freecycle, on which people give away unwanted items.
The vegetarian 23-year-old says she started binning after a trip to Berlin and an encounter with someone who showed her where she could find free food that had been thrown away.
She then embarked on a week of living only on freegan food, dining on hot cross buns and clotted cream as well as vegetable stir fry, all found in bins.
Libby has been hitting the bins for food ever since, although she also tops up her diet with bought food.
Luiza, 24, a vegan, says food has become an "obsession" of hers.
"I spend a lot of my time dedicated to it - saving it from reaching landfill, cooking and sharing meals, distributing it to the community," she said.
The pair host pot-luck freegan suppers, distribute food to their housemates and attend events hosted by the activist group Food not Bombs in which they give away free cooked food in Hampshire town centres.
Libby says she has never been ill from eating food found in bins, making sure she scrupulously inspects her finds and washes everything that isn't sealed.
She says her lifestyle encourages her to try cooking "weird food", and has led her to try foods she hadn't eaten before.
The Food Safety Agency warns against eating food from bins, due to the risk of cross-contamination, and also warns that food should always be consumed by the use by date.
Libby says although her friends, housemates and mother were initially disgusted by the concept of binning, they now support her efforts and her mother has even offered to join her.
"My friends know if they come to my house and want food, it's going to be recovered bin food nine times out of 10," said Libby.
"My housemates are always excited to see what I've got when I come in from a night of binning."
For the past year Libby has been uploading photographs of her bin finds onto a blog, as a "tiny glimpse" of how much food is wasted in the UK every year.
She said she was inspired to start the blog after realising there was very little publicity about the freegan movement.
Libby and Luiza, who supplies many of the blog's photographs, say they are interested in highlighting the amount of food which is disposed of every day in Britain.
Recent estimates suggest half the food bought in Europe and the US is thrown away.
The House of Lords is currently holding an inquiry into food waste, in which the CEO of Tesco blamed UK consumers for not buying misshapen vegetables and contributing to food waste.
The supermarket giant says it wasted 30,000 tonnes of food in the first half of 2013.
Campaigners have asked for restrictions to be relaxed on pig swill to combat waste, and charities such as Fare Share are working with supermarkets to distribute surplus food to people in need.
Although it saved 4,200 tonnes of food last year, the charity says it handles just 1% of all surplus food within the UK.