Portsmouth shipbuilding revival plans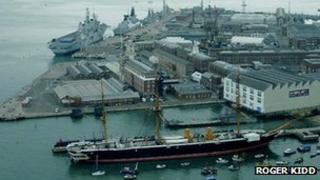 A consortium of businesses and individuals insists its plans to save shipbuilding in Portsmouth are viable.
Portsmouth Shipbuilding wants to take over the running of the BAE yard.
It follows the announcement that Royal Navy shipbuilding will end in the city next year with the loss of about 900 jobs.
Portsmouth North MP Penny Mordaunt has backed the consortium's plans and said there had been a "huge range" of inquiries.
Portsmouth Shipbuilding is a project directed by Sarah Stanton, the former executive project manager for Aircraft Carrier Alliance.
The group proposes to "utilise the existing skills, facility and management expertise" at the yard to create a "successful and sustainable shipbuilding company".
It aims to deliver both commercial and naval vessels for domestic and export markets.
'Full order book'
Ms Mordaunt said the "enormous" yard could attract and accommodate a range of businesses working "alongside each other, perhaps under an umbrella organisation".
She said that businesses including "super-yacht" companies had already shown an interest.
However, she said the group needed to look to the long term and said a "full order book" was required in order to make the venture sustainable.
"It's for the good of Portsmouth but also the good of the country that we keep shipbuilding here," she added.
About 900 jobs are to go at the BAE yard, which employs some 1,200 people.
It will stay open but with a focus limited to repairs and maintenance.
BAE job losses are expected to be phased in over the next three years and a trawl for voluntary redundancies has already begun.
In a statement, a BAE Systems spokesperson said it was "dedicated" to supporting the Royal Navy surface fleet from Portsmouth.