Minister for Portsmouth to be Michael Fallon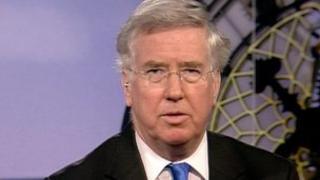 Michael Fallon has been named Minister for Portsmouth to help the city recover from the loss of shipbuilding.
The former Conservative Party deputy chairman will have responsibility to support jobs and growth in the city.
It follows a decision in November to move Navy shipbuilding to Scotland with the closure of the city's BAE Systems yard causing the loss of over 900 jobs.
Labour and trade unions had criticised the government for not doing enough to create new employment in the city.
'Help us cope'
Mr Fallon is currently minister of business and innovation under Business Secretary Vince Cable.
He is also minister for energy at the Department of Energy and Climate Change.
When asked about the appointment, Liberal Democrat Mr Cable said: "I'm the real minister for Portsmouth. I go there, Michael Fallon does as well.
"The prime minister's taken this decision because of the particular circumstances in Portsmouth.
"It's about the continuing transition from shipbuilding to ship maintenance."
Downing Street also defended the appointment of Mr Fallon as minister for Portsmouth.
Asked why a politician who already has two ministerial roles was being given another, the prime minister's spokesman said "in terms of workload he has very broad shoulders".
The Liberal Democrat leader of Portsmouth City Council, Gerald Vernon Jackson, said: "I am glad that it seems ministers are listening and we are going to have somebody like Michael to help us cope with the loss of shipbuilding.
"We have had just silence from the Ministry of Defence about this, so I am pleased that another department is willing to listen.
"The loss of shipbuilding is a real blow for Portsmouth - it is the loss of 1,000 skilled jobs - so it is about trying to replace those and to find additional work for them."
Portsmouth South MP Mike Hancock said: "We have got to make sure he realises the size and scope of the problems and can work with local authorities and unions to try to bring about a mechanism which will go some way to encourage other businesses - either shipbuilding or maritime-related - in the space vacated by BAE in the shipyard.
"We have to bear in mind that Michael Fallon has already got two other jobs. I just hope he has the time and energy to devote to the issues we are facing."
The last time a similar appointment was made was in 1981, when Margaret Thatcher despatched Environment Secretary Michael Heseltine to Liverpool to lead a programme of urban regeneration following the Toxteth riots.
He was dubbed the "minister for Merseyside" and was later given the Freedom of Liverpool in recognition of the work he did to revive the city's fortunes.