Portsmouth FC: Vladimir Antonov to be extradited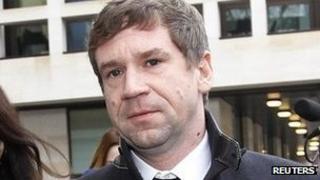 Former Portsmouth FC owner Vladimir Antonov is to be extradited to Lithuania to face fraud charges, a court has ruled.
Vladimir Antonov, 37, and his Lithuanian business partner Raimondas Baranauskas are accused of asset stripping at Lithuanian bank Snoras.
Both men, former directors, deny fraud worth almost 500m euros (£420m).
At Westminster Magistrates' Court, Judge John Zani said the pair had seven days to appeal against the decision.
He concluded they would receive a fair trial in Lithuania and found no evidence of any risk to their human rights.
Lithuanian authorities issued a European arrest warrant for the pair in November 2011 following a pre-trial hearing into the alleged multimillion-pound fraud.
Mr Antonov, a London-based banker, bought Portsmouth Football Club in June 2011.
He was forced to stand down as chairman in November 2011 when his company Convers Sports Initiatives (CSI) went into administration.