Homes plan for Sandown's former art deco Rivoli cinema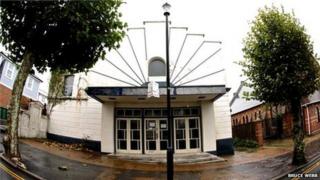 A former art deco cinema on the Isle of Wight could be partially demolished to make way for five homes.
Tony Wright, the owner of Sandown's former Rivoli cinema, which is now a disused warehouse, said the plans were due to be submitted to the council.
It comes after campaigners, who want to buy the building and reopen it as a cinema, failed to meet the January deadline to raise £180,000.
They still need £90,000 but insist the project is still viable.
The building was a Victorian Oddfellows Hall which was converted into a cinema in 1921 and given its distinctive frontage - which Mr Wright said would be retained under the housing plan.
It became a bingo hall in 1962 and was recently used as a costume warehouse.
'Cultural history'
Campaign leader Bruce Webb, director of the island's film festival, said he had already secured £90,000 through crowdfunding, selling personalised seats, season tickets and shares in ownership of the building, but added the project still needed investors.
Mr Webb is hopeful he can raise the cash before plans progress, and described the building as "an important part of the cultural history of the Isle of Wight".
He said the reopened cinema would show mainstream films and art house productions, and would also be an Isle of Wight Film Festival venue.