Isle of Wight homes evacuated as road crumbles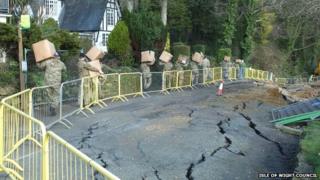 Emergency services and the military have helped to evacuate homes affected by a crumbling road surface.
Residents along Undercliff Drive between Niton and St Lawrence on the Isle of Wight were advised to leave for safety reasons on Friday.
The remaining properties were vacated on Saturday before the military moved in to help those affected to remove belongings from their homes.
Members of the public have been advised to stay away from the area.
Isle of Wight Council said the decision was made to evacuate homes because of safety concerns, a lack of access and uncertainty about utility supplies.
A private security firm is patrolling the area while police also have a presence, the council added.
Bill Murphy, head of planning and regulatory services, said: "We have been closely monitoring the situation and liaising with residents since new cracks began to appear in the area earlier this week.
"Unfortunately the situation has developed rapidly and for reasons of safety we have taken the decision to close the road to vehicles.
"We have been liaising closely with residents over the past few days and are continuing to keep them updated of the situation and offer advice and support."