Isle of Wight landslip: Remaining homes evacuated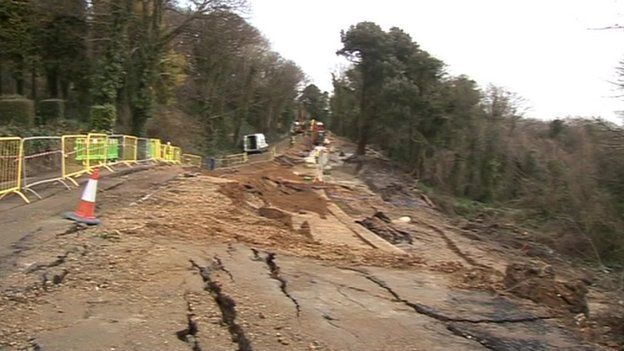 Residents remaining on a crumbling road on the Isle of Wight are to evacuate their properties as the land there is becoming increasingly unstable.
Occupants of nine homes in Undercliff Drive, between Niton and St Lawrence, were advised to leave on Friday after a landslip caused the road to collapse.
A handful initially refused to leave but those remaining are expected to leave in the next 24 hours.
One evacuated bungalow has already suffered serious structural damage.
Some residents had told the council they were reluctant to leave because their insurers said moving out would invalidate their insurance.
Council deputy leader Steve Stubbings said: "We can't tell them they've got to leave but we have advised them to leave because we are concerned about continuing movement in the area.
"I understand the rationale behind them staying for the time being and we are doing every we can to give them sound advice in terms of what their best movement would be from now until we can get this situation sorted out."
Isle of Wight Fire and Rescue group manager Justin Harden said: "Indications are that all residents will, over the next 24 to 48 hours, be leaving the area and I would strongly advise members of the public to stay away. It's very unstable.
"They [the residents] appear to be very stoic. It is an area which is recognised as being particularly unstable and has been for a number of years. Historically it has seen slides and with this unprecedented rainfall, I don't think it has helped the situation."
The authority, assisted by the police, armed forces and coastguard, are offering on site advice and help to residents, help in moving belongings and temporary hotel accommodation.
The road, on the southern tip of the island, began to show signs of movement on Wednesday but Friday's storm accelerated the landslip and residents were told to move out for their own safety.
Isle of Wight Council said the decision was made to evacuate homes because of safety concerns, a lack of access and uncertainty about utility supplies.
Related Internet Links
The BBC is not responsible for the content of external sites.