Killer Arthur Duncan's human rights bid 'unfair'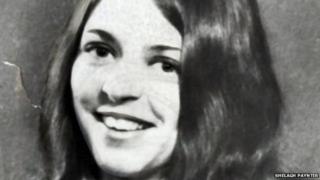 A woman whose sister was murdered 43 years ago has described human rights legal action brought by her killer as a "smack in the face".
Arthur Duncan raped and strangled Linda Bull, 22, as she walked home from a friend's house in Andover, Hampshire.
He claims the Scottish Prison Service failed to provide him with rehabilitation courses that could have improved his chances of gaining parole.
Shelagh Paynter said the system that allowed his bid was "cruel and unfair".
Similar cases have ended with prisoners being awarded thousands of pounds in compensation.
Mrs Paynter, 62, said: "It seems as though the victims are the ones that get forgotten and the criminals, they have all the help - and I don't think they deserve it."
Duncan, from Aberdeen, was transferred into the Scottish prison system and is now Scotland's longest-serving prisoner.
Earlier this month, a judge said his human rights may have been breached because there had been "no proper opportunity of access to any rehabilitation programmes" from April 2007 to July last year.
He said the findings were provisional and ordered a new hearing into the case.
The Scottish Prison Service said it would be inappropriate to comment as no final judgement had been made.
'Just horrendous'
Reliving the day in 1970 Linda's body was found, Mrs Paynter, who was 18 at the time, said: "I had woken up in the morning and my sister wasn't in her bed. She'd been to see a friend the night before and my dad said, 'Linda didn't come home - she must've stayed at her friend's'.
"Later on in the morning, I had a phone call saying to go home and a friend of my family sat me down and told me and, of course, I was horrified.
"It was just horrendous - you just can't imagine.
"We just had to get on with our lives, really. I remember my dad went back to work and, after a while, he was told by someone it was about time he got on with life and got over it. But they never got over it. We never have.
"You only have to listen to bits of music and tears are in your eyes.
"My dad had a heart attack through the stress of it so we were always pussyfooting around each other, too scared to say anything."
She added: "If he [Duncan] can ask for and be awarded this compensation, I don't know how we are all going to feel. It's like a smack in the face, really. I think it's cruel and just so unfair.
"If they do get compensation, am I indirectly paying for the compensation if it's coming from taxes? Am I paying compensation to somebody who murdered my sister?"